Books for sale
We have a number for sale. Each will be of interest to Sunderland family historians.
Want to purchase a book?
Please send cheques payable to the Sunderland Antiquarian Society, 3 Woodside, Sunderland. SR2 7ET along with the name of the book you would like to purchase and the address you would like us to send it to. Alternatively, contact our Treasurer on email at sunderlandantiquarians@yahoo.co.uk for other methods of payment and postal charges.
If you are local, you can order and collect from the Antiquarian Society.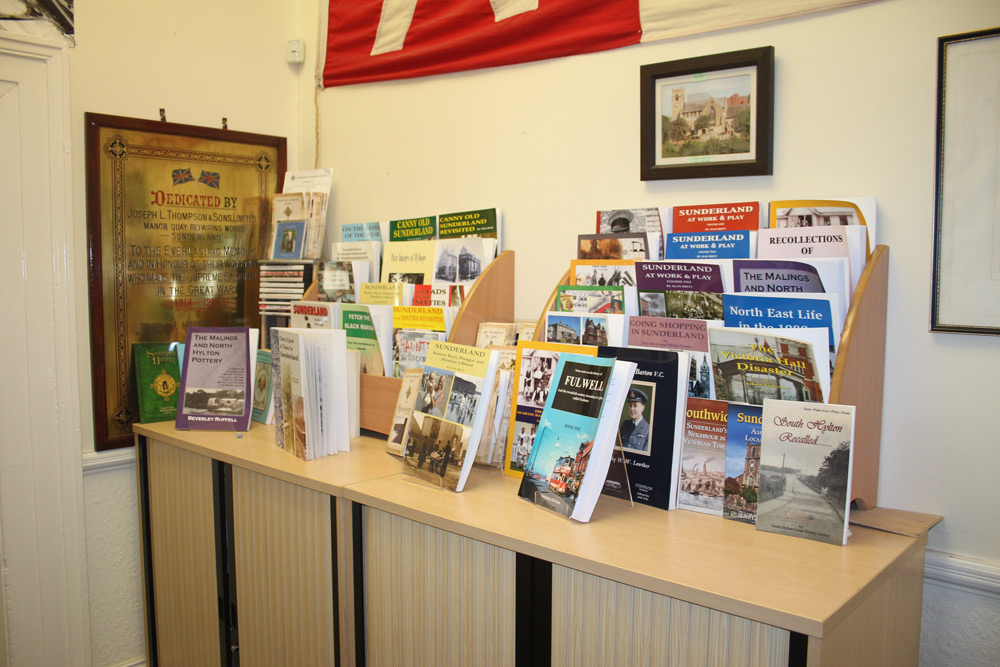 Remembered in Sunderland

Trevor Thorne

| | |
| --- | --- |
| Price | £7.99 |
| Postage | £3.00 |
| Total | £10.99 |

Sunderland in the 20s and 30s

Trevor Thorne

| | |
| --- | --- |
| Price | £9.99 |
| Postage | £3.00 |
| Total | £12.99 |

Sunderland and the Edwardians

Trevor Thorne

| | |
| --- | --- |
| Price | £9.99 |
| Postage | £3.00 |
| Total | £12.99 |

The Grand Mansions of Sunderland

Trevor Thorne

| | |
| --- | --- |
| Price | £9.99 |
| Postage | £3.00 |
| Total | £12.99 |

Sunderland Public Houses

Alan Brett

| | |
| --- | --- |
| Price | £7.99 |
| Postage | £3.00 |
| Total | £10.99 |

Canny Old Sunderland

Alan Brett

| | |
| --- | --- |
| Price | £9.99 |
| Postage | £3.00 |
| Total | £12.99 |

Canny Old Sunderland Revisited

Alan Brett

| | |
| --- | --- |
| Price | £4.99 |
| Postage | £3.00 |
| Total | £7.99 |

Sunderland's Grand Mansions Volume 2

Trevor Thorne

| | |
| --- | --- |
| Price | £9.99 |
| Postage | £3.00 |
| Total | £12.99 |

Sunderland & The First World War

Trevor Thorne

| | |
| --- | --- |
| Price | £9.99 |
| Postage | £3.00 |
| Total | £12.99 |

Sunderland Aspects of Local History

Glen Lyndon Dodds

| | |
| --- | --- |
| Price | £7.99 |
| Postage | £3.00 |
| Total | £10.99 |

Roker & Seaburn

Philip Curtis & Alan Brett

| | |
| --- | --- |
| Price | £4.99 |
| Postage | £3.00 |
| Total | £7.99 |

Sunderland - Barrow Boys, Plodgin' and Monkey's Blood

Alan Brett

| | |
| --- | --- |
| Price | £9.99 |
| Postage | £3.00 |
| Total | £12.99 |